After criticized public to his teammates and a
controversy smoking picture
, at last Gallas armband will be striped..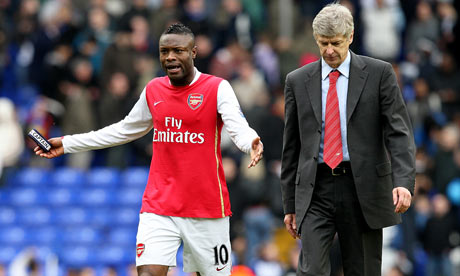 Arsenal manager Arsene Wenger has reportedly relinquished William Gallas of his captaincy after the French defender made dressing room rifts between senior members of the Gunners squad public knowledge.
Spanish goalkeeper Manuel Almunia, French full back Gael Clichy, vice captain Kolo Toure, and influential midfielder Francesc Fabregas are the likeliest contenders to take the armband on a permanent basis.
I think it is the best way.. How can a leader keep on blaming his teammates.. He as an experience player must guidance the younger player.. And keep on to protect them, but Gallas can't do it.. Maybe it is last season for him.. Goodbye..
Gallas clip on youtube
William Gallas worst captain??
Gallas vs Nani - Gilberto save ..
Related News :-
William Gallas Stripped Of Captaincy
Wenger was warned by a former member of Chelsea's hierarchy: 'Do not make Gallas captain
Keane backing for Gallas
Gallas pays price for raging against Arsenal machine
Arsenal fans call for William Gallas exit
Gallas galls the Gunners
One of best article :-
GALLAS WON'T BE FUCKING CAPTAIN
Wenger Explains Gallas Captain Decision