This weeks Amr Zaki gets more attention from BPL fans...
He score the winner goal against richest club on BPL, Manchester City..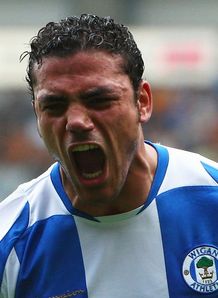 Who is AMr Zaki?
Full name : Amr Hassan Zaki
Date of birth : April 1, 1983 (1983-04-01) (age 25)
Place of birth : Mansoura, Egypt
Height : 1.85 m (6 ft 1 in)
Playing position : Striker
Club information
Current club : Wigan Athletic
Amr Zaki wallpaper
Click for larger view..
All picture credit to the owner..
AMr Zaki clips
Related News:-
Bruce beams at Zaki display
AMr Zaki lets goal do his talking
Zaki Inspires Wigan Win Over City
AMr Zaki magnificient Reaction